Who Is Joe Sommers?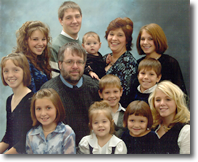 Joe and family.
Family
He will be happily married twenty years this spring to his wife, Joan. They have been blessed with eleven healthy children: Robert (18), Therese (17), Veronica (16), Clare (14), Martha Rose (12), Cosette (10), Solanus Patrick (8), John Paul (6), Joanie (4), Kristelle (2), and MaryJo (9 months). Since 1999, the Sommers family has been residing in Oregon (ten miles south of Madison) where Joe went to high school.
Upbringing
He was blessed with wonderful parents, also named Joe and Joan, and was the fifth of thirteen children. He was born and lived in the Detroit, MI area until his family moved to Oregon, WI when he was sixteen. Seven of his siblings reside in Wisconsin. His sister Martha (who was the college roommate of Joe's wife) is currently a missionary doctor in Malawi, Africa.
Education
Joe graduated from Oregon High School in 1980. He attended St. Norbert College and then transferred to and received his undergraduate degree from UW-Green Bay. He earned his law degree from UW-Madison in 1992.
Prior Career
Prior to becoming an attorney, Joe was a night manager of a homeless shelter in Madison, WI. All told, he did this for 6-1/2 years. For two years he was a social worker with the chronically mentally ill in Sauk County.
Legal Career
Joe's primary area of practice has been criminal defense. He has always been a solo practitioner, with his practice being pretty evenly divided between the trial and appellate levels. While Joe does not claim to be Clarence Darrow, he has been pretty successful in handling jury trials. In his last thirteen jury trials against the Dane County District Attorney's Office, if you count as a victory prevailing on at least 75% of the charged conduct, Joe is (10-3). Against the Dane County District Attorney's Office he has prevailed at trial on six out of seven contested Class B felonies.
Despite handling hundreds of cases at the trial level, no appellate counsel has ever alleged that Joe was ineffective on a single aspect. At the appellate level, Joe's most notable success was having the conviction of Joseph Guerard overturned by the Wisconsin Supreme Court. This victory has a somber note in that Mr. Guerard still unfortunately served almost nine years of a 52 year sentence. (Please click here to see newspaper coverage of this and one of Joe's trial victories).
Hobbies
Despite being an athlete of modest talents, Joe remains an avid fastpitch softball player. He formerly enjoyed playing rugby, but retired with the arrival of his fourth child. Joe has always been an avid reader, especially interested in history, philosophy, and world affairs.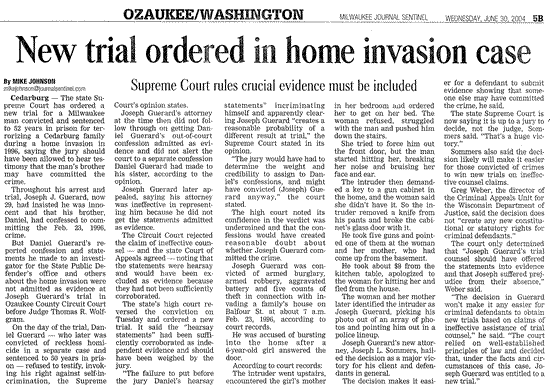 Read this Milwaukee Journal Sentinel article, "New Trial ordered in home invasion case", from the Find Articles' archives.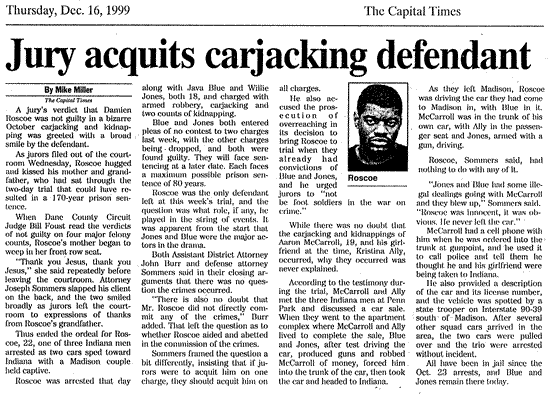 Read this article, "Jury acquits carjacking defendant", from The Capital Times' archives.
Vote for Joe Sommers on February 20th and April 3rd.
return to top